Do you love to pass the time playing addictive games on your Android device? Then take a look at Geometry Dash.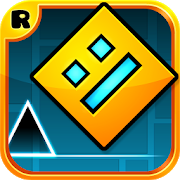 Geometry Dash is fast, it's packed with action, and it is highly entertaining.
What is Geometry Dash?
A fast-action game, Geometry Dash is a game of skill. Jump, fly, and flip through multiple levels, each harder than the last in a challenging and addictive game.
Geometry Dash is packed with features, including:
Hundreds of levels progress in difficulty
Build levels and share them with others
Practice Mode
Earn Game Center rewards with high scores
Fast-paced, frustrating, and addictive
Jump, flip and fly through dangerous passages and dodge obstacles
One-touch gameplay
Unique soundtracks on every level
Customize your character with colors and icons
How to Download Geometry Dash:
Geometry Dash is straightforward to download. Because it is an official app store app, that's where you will get it from, or you can just click the link below, and it will take you to the app:
Geometry Dash is one of the most entertaining games ever released, and $1.99 is a small price to pay for so much fun in one game. It is frustrating, it is near-impossible, but you will keep on going back. It is so addictive that you just have to beat each level, and you will do it, no matter how long it takes you.
Geometry Dash is the ideal game to pass your break time, your journey to work, or just when you want to wind down after a hard day at work.
You may become so addicted that you lose track of time!
We mentioned earlier that there are in-app purchases. If you don't want to find yourself racking up the credit card charges to get further through the game, you can disable in-app purchases. Go to your Settings app, tap on Screen Time > Content and Privacy, and disable them.
Download Geometry Dash and join the most addictive game ever. Follow us on Facebook, and we'll give you more app recommendations.