Looking for a cool messaging app? You could do far worse than WhatsApp!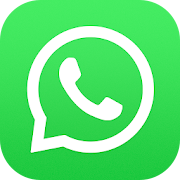 Owned by Facebook, WhatsApp offers an easy way of staying connected with your friends and family.
What is WhatsApp?
With over 1.6 billion people using WhatsApp every month, it is the number one messaging app in the world. With some pretty cool features, it is one of the most secure and reliable social media apps ever released.
WhatsApp Features:
Free to use
Requires an internet connection – Wi-Fi or data
Send and receive messages, voice calls, video calls, and more
Send and receive multimedia – videos, photos, documents, and more
Free calls anywhere in the world*
Group chat
It works in your browser too
No passwords, no pin – WhatsApp works with your phone number
Never miss another call or message – always logged in
Uses your address book to allow quick and easy contact with your friends and family
Messages are saved for you even if your phone is off
Share your location
Set custom notification sounds and wallpaper
* Cannot be used for emergency calls
How to Download WhatsApp:
It is so easy to get all these cool features on your Android or iPhone – simply go to the official app store and download WhatsApp for free. Or you can just click the link below to go directly to it:
There is no denying that WhatsApp is a popular app – that many monthly users can't all be wrong! It is one of the easiest ways to stay in touch, whether you are a personal user or it's for business. With an always-on connection, you will never miss another call or message again.
And because it uses your internet connection, if you use data, you may be liable for data charges – check with your provider.
WhatsApp is the best messaging app in the world, and you don't want to be left behind when all your friends are reaping the benefits of it. Download it now and join in the latest messaging craze; follow us on Facebook, and we'll keep you provided with more cool app recommendations.