Farming Simulator Mobile is the latest and best simulator game to reach mobile devices.

Simulator games have always been popular, and this one is no exception, offering plenty of entertainment and a great way to pass the time.
What is Farming Simulator?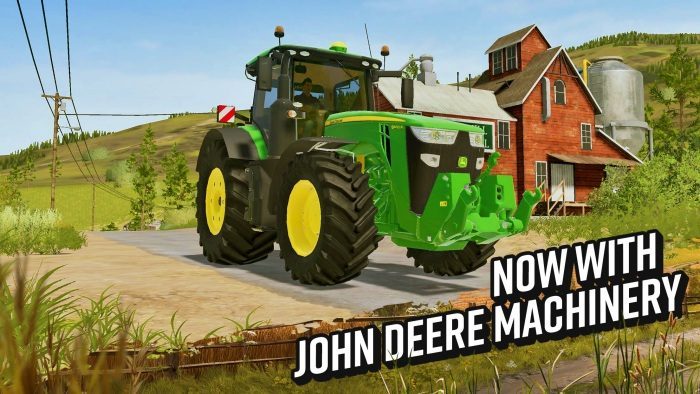 The latest game from GIANTS Software GmbH, Farming Simulator offers players a fun farming game to immerse themselves in for hours at a time. The game provides plenty of authentic machines to play with from well-known manufacturers and allows players to cultivate many different crops, bring up various animals, or join the forestry, In short, players can be whatever type of farmer they want to be. The sequel to Farming Simulator 22, this game offers almost everything its predecessor offers along with a few new ones.
Farming Simulator Features:
On top of the features offered by Farming Simulator 22, Farming Simulator offers plenty more. Some of the top features include:
More than 200 machines to operate, including John Deere, Massey Ferguson, New Holland, CLAAS, and many more, including, for the first time ever, an electric vehicle and a forklift
Tend to many different crops, including olives, grapes, Sorghum, wheat, barley, sunflowers, and more
Tend animals, including chickens, bees, cows, horses, sheep, pigs, and deer
Two new maps: Neubrunn and Amberstone, where valuable goods can be produced
Work with seasonal cycles
Better tutorial mode and AI Worker
Autoload feature
Become a forester and operate heavy winches to pull the logs
Produce and sell goods to make money to expand your farming empire
Plow and weed your farm or take a walk around it and admire your hard work
Establish production chains
Costs $7.99
In-app purchases are also available to help you grow your farm, including new vehicles if you find 100+ is not enough.
How to Download Farming Simulator:
If you want to start your own farm and get to grips with all it involves, downloading it onto your iOS or Android device is simple. Click the relevant link below:
Then click on Download/Install, and follow the on-screen instructions to purchase and play the game.
Farming Simulator is the coolest new simulator to hit the app stores, and it offers tons of features for both casual and hardened players. If you love the idea of owning a farm, but the real thing isn't an option, do the next best thing. Download Farming Simulator onto your mobile device today and enjoy running a farm without the hard work.