Stumble Guys is one of the best action games available on mobile devices today.

A multiplayer Royale game, Stumble Guys offers tons of fun and entertainment as you battle to be the last person standing.
What is Stumble Guys?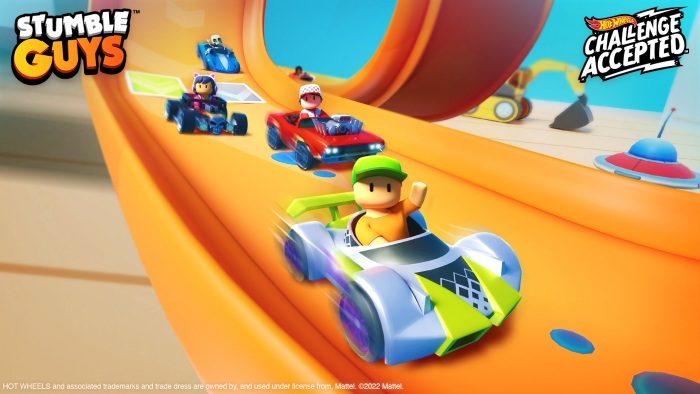 Developed by Kitka Games, Stumble Guys was released in 2021 and quickly became a popular download. It's a multiplayer knockout game where you compete against up to 32 other people, dodging ever-crazier obstacles and beating all your opponents to win the game. When you stumble – which you will – get up, keep running, and try not to get wiped out.
Stumble Guys Features:
An incredibly popular and fun game, Stumble Guys provides players with lots of cool features:
Multiplayer Royale knockout game
Compete against up to 32 people at a time
Each round becomes more chaotic, with crazy obstacles and bizarre challenges
Knock your rivals down and pass every obstacle to be the last person standing
Invite your friends or play against complete strangers
Free to play
Run, slide, dash, fly, and surf past your opponents
Dodge the obstacles heading your way
Colorful graphics
Tons of customization options
Many levels to beat
Loads more cool features
While Stumble Guys is free to download, in-app purchases are offered. However, you don't need to purchase these to advance in the game, and you can disable them or change your settings to ask for your permission before any purchases are made.
How to Download Stumble Guys:
If you want to join the game and take part in complete and utter mayhem, download Stumble Guys onto your device. Simply click on one of the links below and tap on Install or Download to get the game on your Android or iOS device:
Stumble Guys is one of the most fun games you could ever play, offering hours of endless, chaotic fun that keeps you on your toes. It proved more popular than both Candy Crush Saga and Roblox in 2022 and is now enjoyed by more than 270 million people worldwide. The game's premise is simple; race against others, compete in challenges, dodge obstacles and wipe out your opponents to be the last person standing – that is the only way to win this game. If you get wiped out, you start again, but every time you complete a round, be prepared to face even more chaos in the next one. If you want to be part of the fun, download Stumble Guys onto your device today.